The Loan Company has served San Diego County since 1974 as a private, direct lender, funding loans of $150,000 and up for an array of income-producing commercial and residential real estate.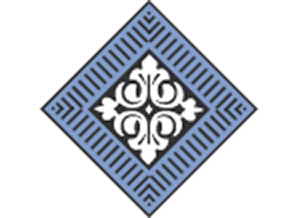 The Loan Company offers an alternative for borrowers who want the personal service of a private lender, but not the high cost, and the reputation of a stable lender, but not the bureaucracy. Simply put, our business is making good loans quickly.
We are an experienced team of real estate financing professionals reputed for our expertise, dependability, and superior service.
At the core of every transaction we undertake is treating others as we would like to be treated ourselves. We attribute much of our success to this ethic, evident in repeat and referral business from client relationships established over many years.
Each loan is individually considered on its own merit. It begins with a phone call to The Loan Company, during which you may talk directly with the decision makers.
Brokers find The Loan Company to be an excellent source for small and mid-size commercial real estate loans in San Diego County.
We value our mortgage broker relationships and support a collaborated effort for their clients to obtain financing.
Loan Types
and Terms
With the exception of Construction and Line of Credit, any of the other loan types can be a hybrid loan (e.g., interest only up to 18 months, then amortized).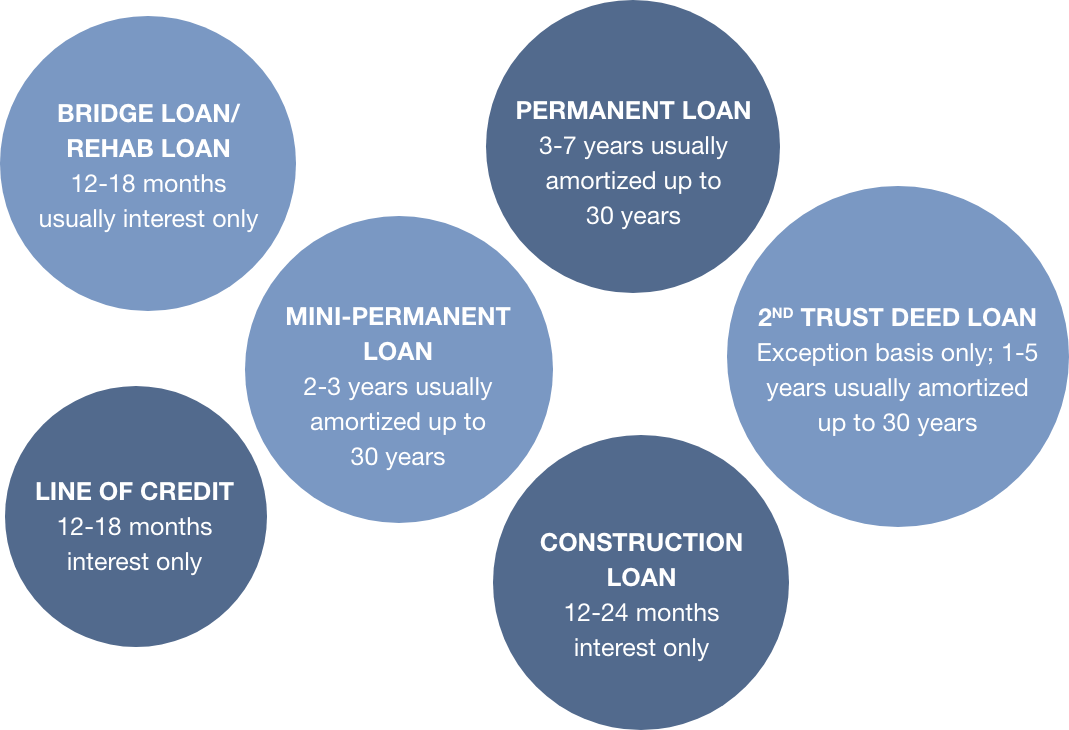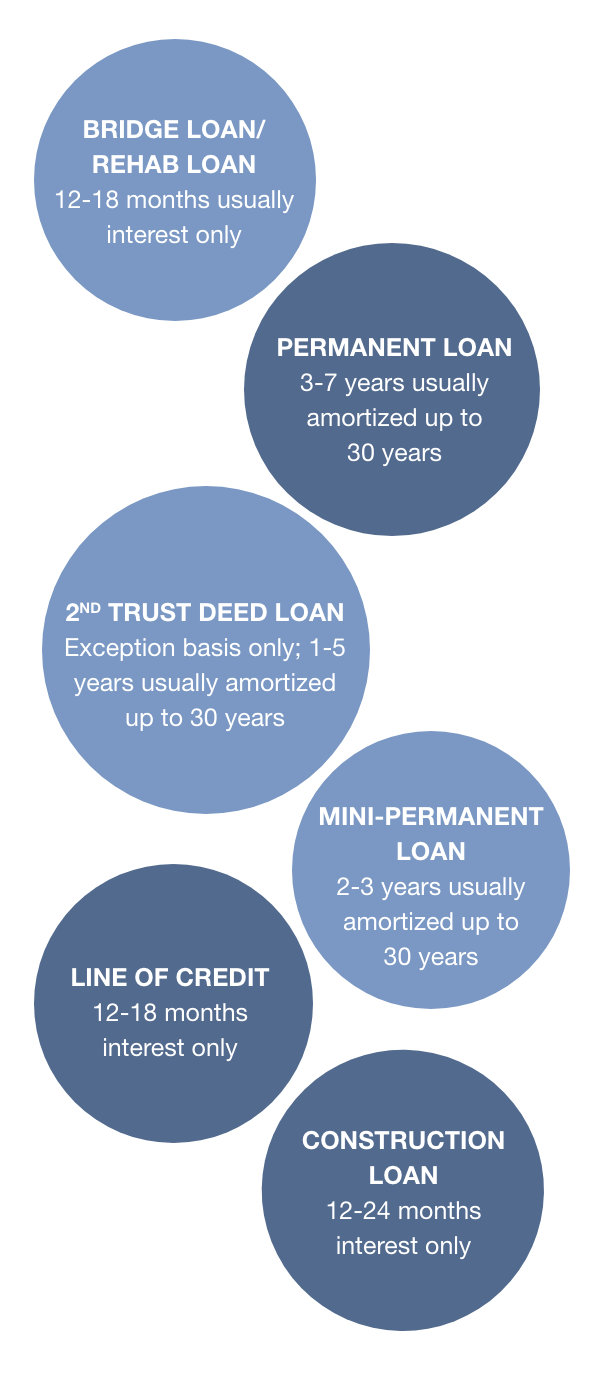 Property
Collateral Types
The Loan Company allows most income-producing commercial or residential investment properties as security for a loan. These include but are not limited to:
Apartment
Auto Body Repair
Car Wash
Convenience Stores
Hospitality Hotel/Motel
Improved Land (Income Producing)
Industrial
Liquor Stores/Taverns
Medical Office
Mixed-use
Mobile Home Parks
Multifamily
New Residential Development
Non-Owner Occupied (1-4 Residential Units)
Office Buildings
Owner Occupied (Commercial)
Pawn Shops
Research & Development
Restaurants
Self-Storage Facilities
Single Family Residence (Non-Owner Occupied)
Single Tenant Properties
Special Purpose Properties
Warehouse
Loan Application Process
The Loan Company of San Diego makes obtaining a loan an easy and enjoyable experience. These five steps typify our loan application and approval process, and in most cases the whole process from start to finish can be completed in as few as five business days.
Call or email Ivan Lavinsky and explain your request.
(619) 293-7770 ext. 204 | ivan@theloancompany.com
Ivan will give you an answer immediately whether your request fits within our general loan parameters. Final approval is subject to review of borrower information and physical inspection of the property.
We provide pre-approval letters for our qualified borrowers upon request.
Providing the initial loan request fits our general loan parameters, we will contact you within 24 hours and provide you with loan terms, subject to any applicable conditions, and a short list of items required for final approval.
If you accept the loan proposal terms we will open escrow, if not already open, and start the loan process.
We request only common sense information necessary to support your ability to repay the loan, including:
Pertinent property and borrower information
Digital photos
Personal Financial Statement with real estate schedule
Personal tax returns for the previous two years
Borrower Credit Score (if not available we will order)
If the borrower is a corporation, an LLC, or a partnership, the entity documents and necessary financial statements and tax returns will be required. Typically we require personal guarantees.
Once all information is collected, our due diligence and underwriting are completed for final approval. If approved we move to the final step.
We complete the loan documents for signing. Once all documents are executed, with approval from escrow and the title company, we proceed to fund and close the loan.